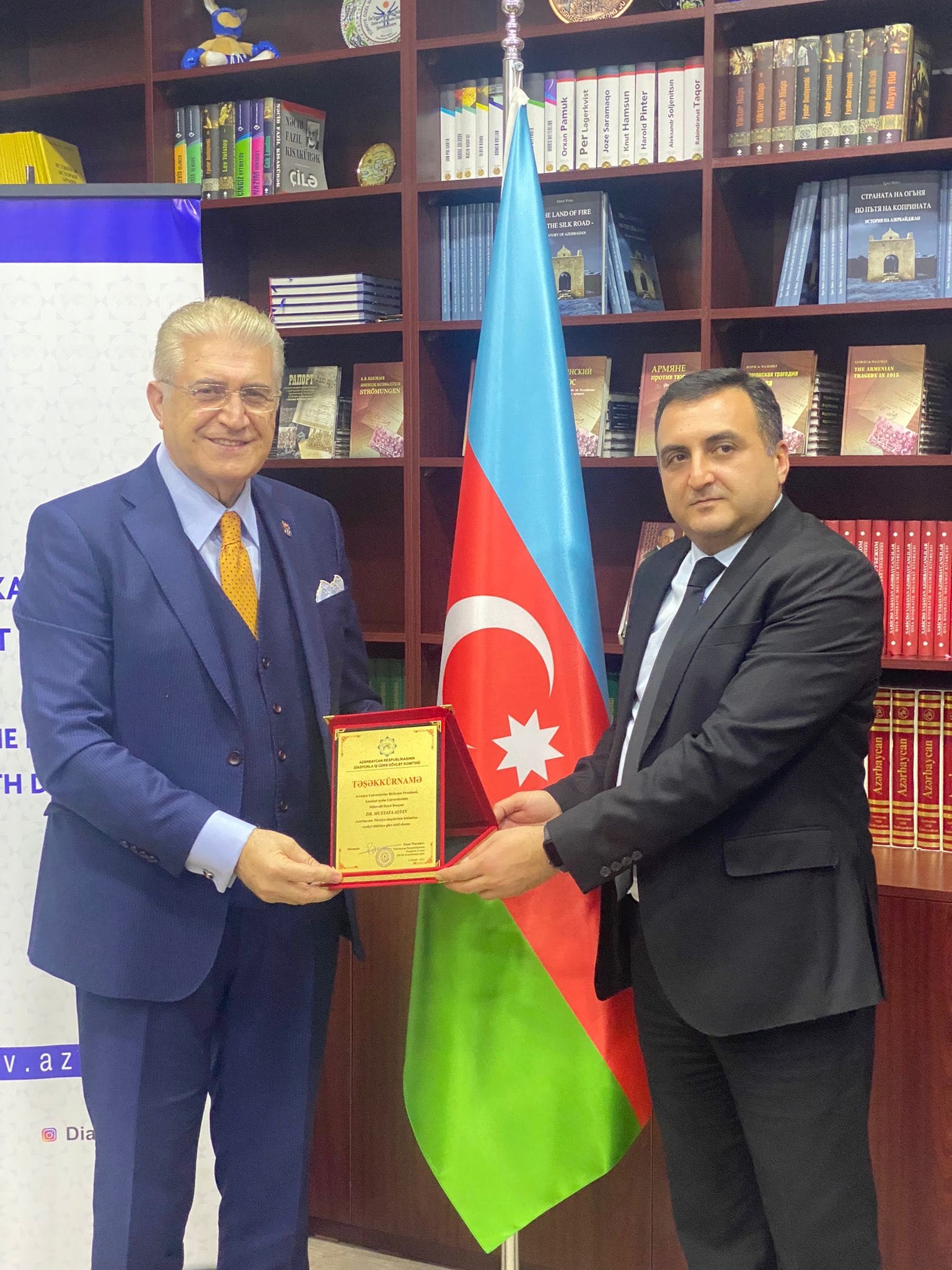 İstanbul Aydın Üniversitesi (İAÜ) Mütevelli Heyet Başkanı Doç. Dr. Mustafa Aydın; Azerbaycan ziyaretinde Diaspora Bakan Yardımcısı ve beraberindeki heyetle, Türkiye-Azerbaycan lobi faaliyetlerinin artırılması ile Avrasya Üniversiteler Birliği (EURAS) konusunu görüştü.
Avrasya bölgesindeki sosyal, kültürel ve bilimsel faaliyetlerde paylaşım, gelişim ve farkındalık unsurlarını daha üst seviyeye taşımak amacıyla kurulan Avrasya Üniversiteler Birliği'nin eğitim programı olan EURAS Akademi'nin, katılımcıların yeteneklerini geliştirmelerine yardımcı olmayı ve belirli konulardaki bakış açılarının genişlemesini amaçladığını ifade eden Aydın; üniversitelerin uluslararasılaşma süreçlerini güçlendirmesi gerektiğini vurguladı.
Aydın, uluslararasılaşma konusunda devletlerin de üniversiteler kadar bilinçli ve müdahil olduğunu belirterek; "Devletler, üniversitelerini dünyaya açılmaya, yeni iş birlikleri kurmaya, uluslararası öğrenci sayılarını artırmaya teşvik ediyor. Bugün üniversiteler biliyorlar ki; eğer uluslararasılaşma süreçlerini başlatmaz ve eğitim kadrolarını, kampüslerini, öğrenci profillerini çok uluslu hâle getirmezlerse kaliteyi artırmak, araştırmalara fon bulmak, öğrenci sayılarını artırmak mümkün olmayacak." dedi. Ayrıca Doç. Dr. Mustafa Aydın'a, eğitimde uluslararasılaşma konusundaki faaliyetlerinden dolayı Bakanlık Şilti takdim edildi.
---
"STATES ARE AS CONSCIOUS ABOUT INTERNATIONALIZATION AS UNIVERSITIES"
During his visit to Azerbaijan, The president of Istanbul Aydın University (IAU) Assoc. Prof. Mustafa Aydın discussed about increasing Turkey-Azerbaijan lobbying activities and the Eurasian Universities Union (EURAS) with the Deputy Minister of Diaspora and delegation.
Aydın expressed that EURAS Academy, the training program of the Eurasian Universities Union, which was established to raise the sharing, development and awareness elements in social, cultural and scientific activities in the Eurasian region, aims to help the participants develop their skills and to form their perspectives on a certain subject. Aydın said that universities should improve their internationalization processes.
Aydın stated that states are as conscious and involved in internationalization as universities, "States encourage their universities to open up to the world, to establish new collaborations and to increase the number of international students. Today, universities know that if they do not initiate internationalization processes and make their teaching staff, campuses and student profiles multinational, it is not possible to increase quality, to find funding for research, and to increase the number of students." he said.