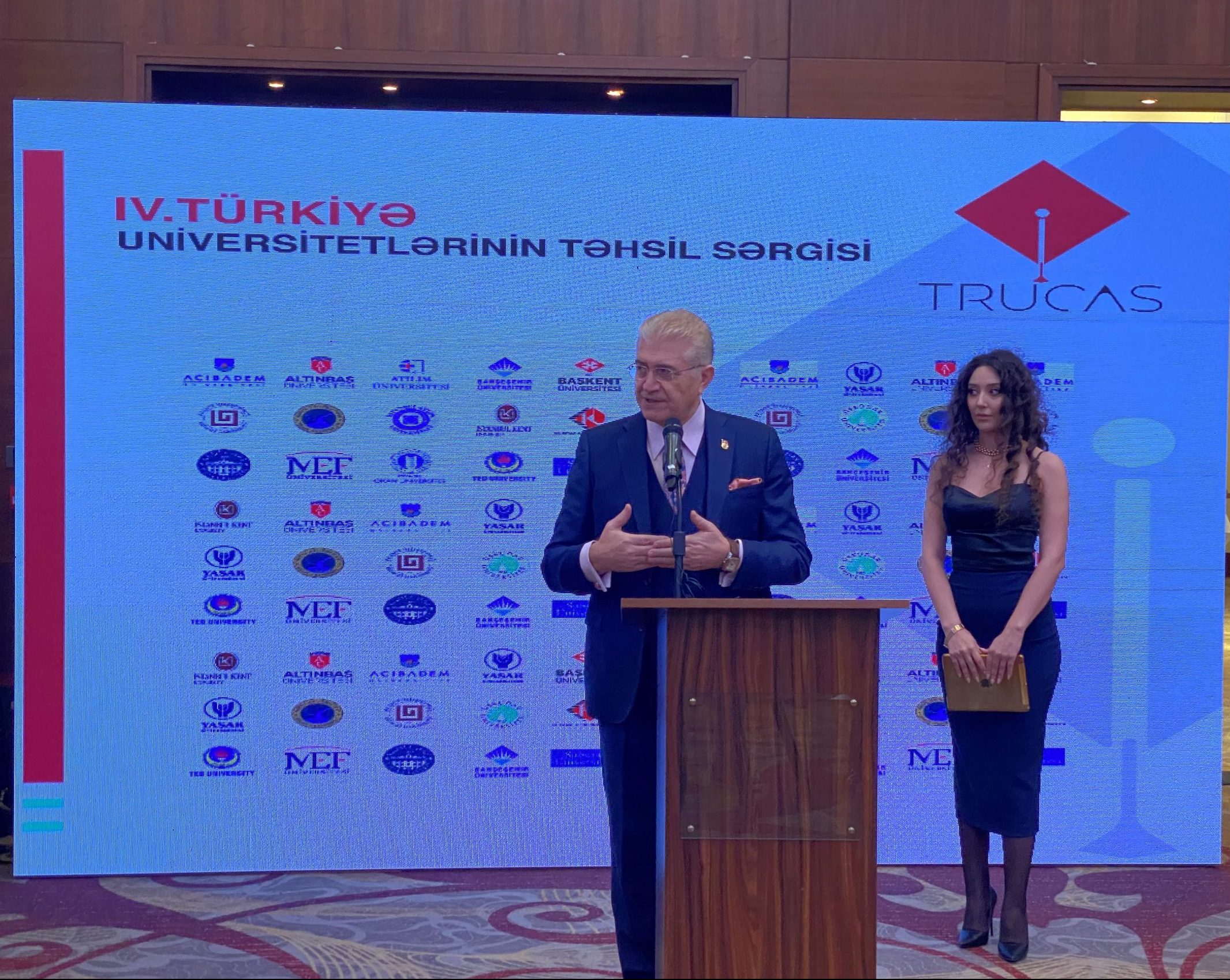 İstanbul Aydın Üniversitesi (İAÜ) Mütevelli Heyet Başkanı Doç. Dr. Mustafa Aydın, Azerbaycan' da T.C. Bakü Büyükelçisi Doç. Dr. Cihat Bağcı ile 22 üniversitenin iştirak ettiği TRUCAS Türk Üniversiteler Fuarı'nın açılışına katıldı. Etkinlikteki konuşmasında bilim yuvaları olan üniversitelerin, geleceğin teminatı olan gençleri yetiştirmekle birlikte bilginin üretildiği yerler olduğunu ifade eden Aydın; üniversitelerin kendilerini içinde bulundukları toplumdan soyutlayamayacaklarını ve ülkenin sorunlarına kayıtsız kalmamaları gerektiğini belirtti.
"Yaşadığımız dünya; nüfus artışı, iklim değişikliği, açlık sorunu, çevresel sorunlar ve bugün küresel ölçekte yaşadığımız pandemi gibi pek çok problemle karşı karşıyadır." diyen Aydın, "Sorunların mimarı kim olursa olsun, çözüm tüm bireylerin sorumluluğudur. Üniversitelerimizin de bu anlamda küresel sorunların çözümüne yönelik en büyük umut olduğunu düşünmekteyim." ifadelerini kullandı.
Türk üniversiteleri ve İstanbul Aydın Üniversitesi'nin iyi uygulamalarını paylaşmaktan büyük mutluluk duyduğunu belirten Aydın, "Biz İAÜ olarak Erasmus ve diğer ikili akademik iş birliklerine, uluslararası programlara her zaman önem verdik. Pandemi döneminde öğrenci değişim programlarında fiziksel hareketlilik kısıtlanınca, burada da inovatif dijital uygulamalar geliştirdik." diye konuştu.
---
"UNIVERSITIES ARE THE GREATEST HOPE FOR THE SOLUTION OF GLOBAL PROBLEMS"
The president of Istanbul Aydın University (IAU) Assoc. Prof. Mustafa Aydın participated in the opening of the TRUCAS Turkish Universities Fair, in which 22 universities participated, with T.R. Baku Ambassador Assoc. Prof. Cihat Bağcı in Azerbaijan.
In his speech at the event, Aydın stated that universities, which are science centers, are places where knowledge is produced as well as raising young people who are the guarantee of the future; He stated that universities cannot isolate themselves from the society they are in and that they should not be indifferent to the problems of the country.
"The world we live in is facing many problems such as population growth, climate change, hunger problem, environmental problems and the pandemic we are experiencing on a global scale today." Aydın said, "No matter what are the reasons for the problems, the solution is the responsibility of all individuals. In this sense, I think that our universities are the greatest hope for the solution of global problems."
Stating that he is very happy to share the good practices of Turkish universities and Istanbul Aydın University, Aydın said, "As IAU, we have always given importance to Erasmus and other bilateral academic collaborations and international programs. When mobility was restricted in student exchange programs during the pandemic period, we developed innovative digital applications here as well." he said.