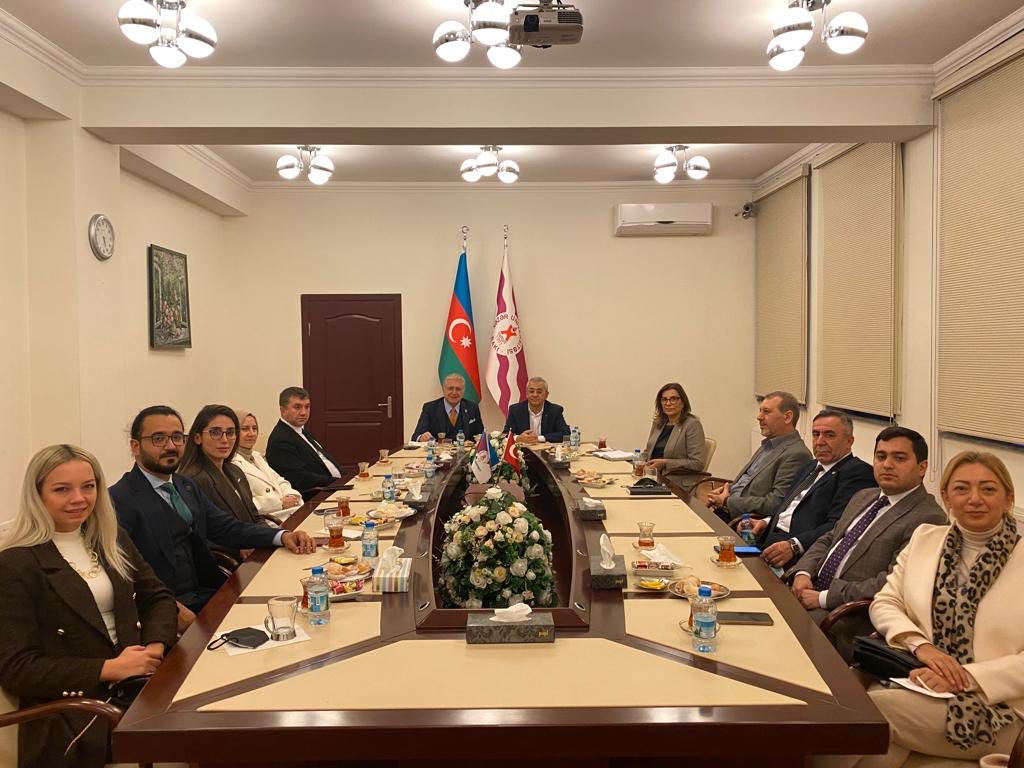 İstanbul Aydın Üniversitesi (İAÜ) Mütevelli Heyet Başkanı Doç. Dr. Mustafa Aydın, Hazar Üniversitesi Başkanı İshak Hanlı'nın daveti üzerine Hazar Üniversitesi'ni ziyaret etti. Doç. Dr. Mustafa Aydın ve İshak Hanlı yeni eğitim modelleri ve üniversiteler arası iş birliği konularında fikir alışverişinde bulundu.
Eğitim modellerinin çocukları daha kapsayıcı, uyumlu ve üretken bir dünya yaratmak için gerekli becerilerle donatılması gerektiğinin altını çizen Aydın; "Üniversitelerin öğrencileri evrensel değerlerle kuşatan, çağın gerektirdiği becerilerle donanmış özgür bireyler yetiştiren entelektüel merkezler olması için çalışmak durumundayız." dedi.
Doç. Dr. Aydın; sektöre ve akademiye hazır bilim insanları ve dünyanın her yerinde çalışabilecek mezunlar yetiştirmeyi hedefleyen İAÜ'nün, global eğitim noktasında tüm üniversitelerle her türlü iş birliğine hazır olduğunu da sözlerine ekledi. 
---
NEW EDUCATION MODELS AND COLLABORATIONS BETWEEN UNIVERSITIES
The president of Istanbul Aydın University (IAU) Assoc. Prof. Mustafa Aydın visited Khazar University upon the invitation of the president of Khazak University Ishak Hanlı.
Assoc. Prof. Mustafa Aydın and Ishak Hanlı shared their ideas about new education models and collaborations between universities.
Aydın emphasized that education models should be adopted to teach necessary skills to children so they can create a more inclusive, adaptable and productive world. He underlined that "universities should be intellectual centers where students are equipped with all skills required by the age, universal values and become free individuals".
Assoc. Prof. Aydın also added that IAU which aims to raise scientists for sectors and academy and alumni who can work all around the world is ready to make collaborations with universities for global education.