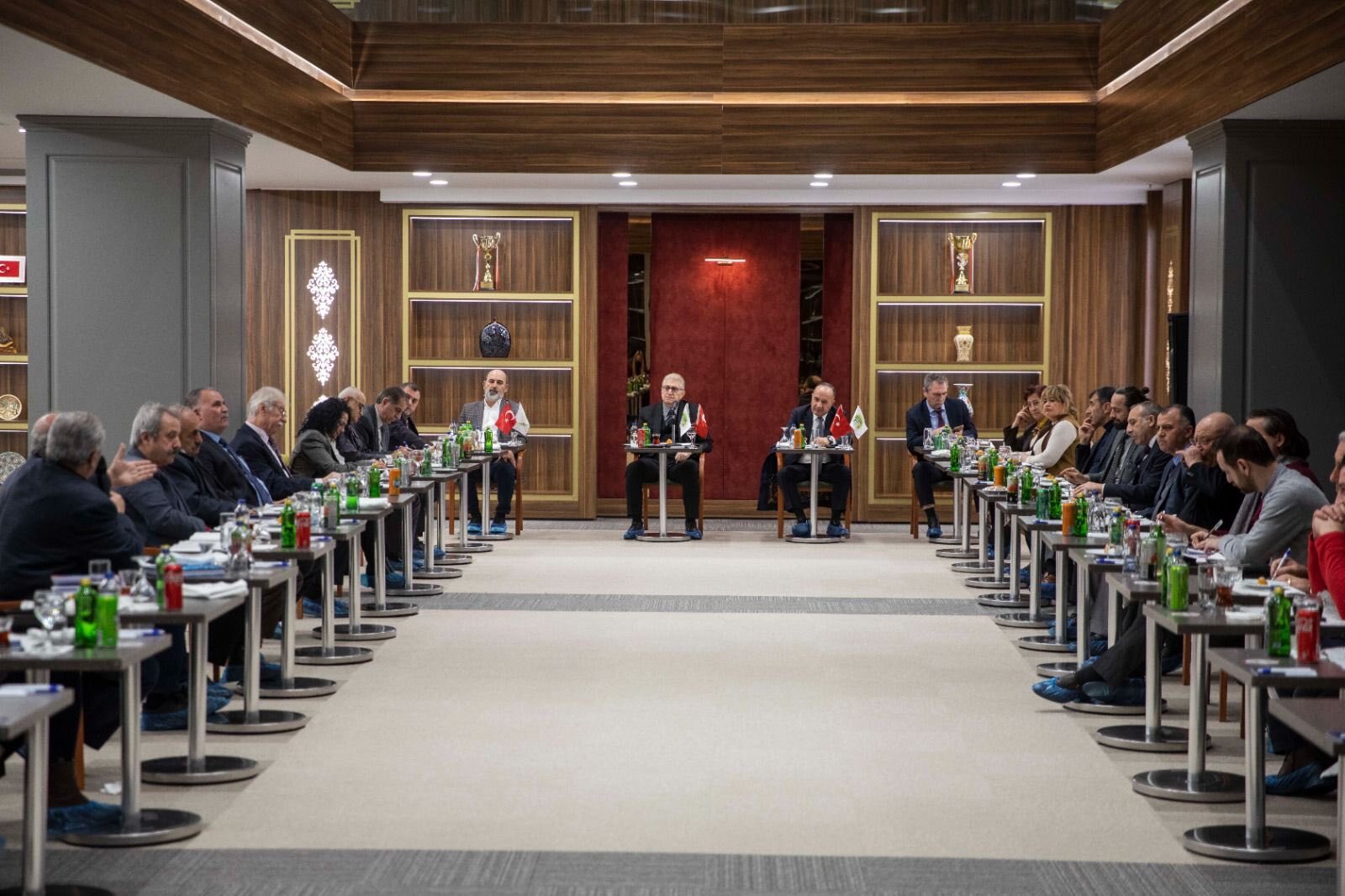 Küçükçekmece Kent Konseyinin 2022 yılındaki ilk genişletilmiş toplantısı, İstanbul Aydın Üniversitesi (İAÜ) Mütevelli Heyet Başkanı Doç. Dr. Mustafa Aydın'ın katılımlarıyla İAÜ'de gerçekleştirildi.
Toplantıya AKEV yöneticileri, Küçükçekmece Belediye Başkan Yardımcısı ve Kent Konseyi Genel Sekreteri Faysal Güler, İlçe Sağlık Müdürü Dr. Ali Osman Çolak, muhtarlar ve Kent Konseyi Yönetim Kurulu üyeleri katıldı. 
Muhtarların ilçe sorunlarını ilettiği toplantıda, çözüm önerileri hakkında görüş alışverişinde bulunuldu. Ayrıca üyeler tarafından 2022 eylem planları aktarıldı ve Küçükçekmece Kadın, Engelli, Çevre, Sağlık ve Spor Meclislerinin de çalışmaları değerlendirildi.
Kadın Meclisinde kadına yönelik şiddeti durdurma çalışmaları değerlendirilerek, yeni projeler hakkında da fikir birliğine varıldı. Çevre Meclisinin sera gazı salınımı ile iklim değişikliği konularında vereceği eğitimler aktarıldı ve Sağlık Meclisinde de uyuşturucuyla mücadele konusunda geliştirilecek projeler görüşüldü.
Küçükçekmece Kent Konseyi toplantısında ayrıca; Küçükçekmece Belediyesi, Küçükçekmece Kent Konseyi ve İAÜ'nün kurucu vakfı olan AKEV'in ortak hazırladığı projelerin de çalışmalarına başlandı.
---
KÜÇÜKÇEKMECE CITY COUNCIL MEETING WAS HELD AT IAU
The first extended meeting of Küçükçekmece City Council in 2022 was held at IAU with the participation of the president of Istanbul Aydın University Assoc. Prof. Mustafa Aydın.
Administrators of AKEV, Küçükçekmece Deputy Mayor and City Council Secretary General Faysal Güler, District Health Director Dr. Ali Osman Çolak, headmen and City Council Executive Board members attended the meeting.
In the meeting, where the headmen conveyed the district's problems, views were exchanged on the solution proposals. In addition, members shared 2022 action plans and also evaluated the work of the Küçükçekmece Women's, Disabled, Environment, Health and Sports Councils. 
At the Women's Council, efforts to stop violence against women were evaluated and a consensus was reached on new projects. The trainings to be given by the Environment Council on greenhouse gas emissions and climate change were shared, and the projects to be developed on the fight against drugs were discussed in the Health Council.
Also, at the Küçükçekmece City Council meeting preparations for projects jointly prepared by Küçükçekmece Municipality, Küçükçekmece City Council and AKEV, the founding foundation of IAU started.