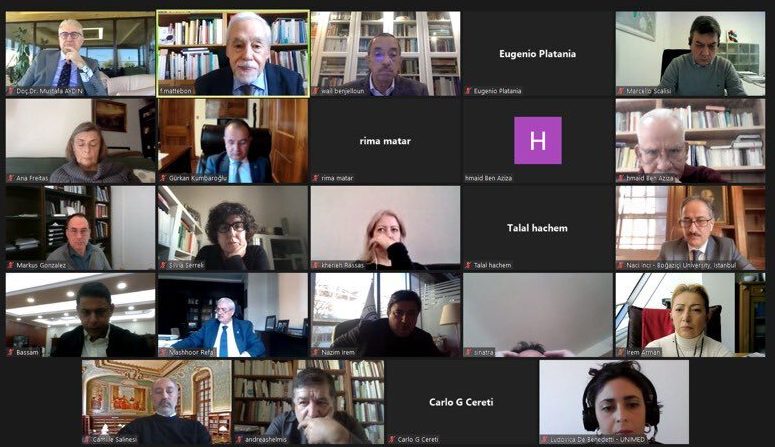 İstanbul Aydın Üniversitesi (İAÜ) Mütevelli Heyet Başkanı Dr. Mustafa Aydın, Akdeniz Üniversiteler Birliği (UNIMED) Yönetim Kurulu Toplantısına katıldı. Toplantıda, bir önceki birleşimde alınan kararların değerlendirilmesinin ardından UNIMED Başkanı Francisco Matte Bon açılış konuşmasını gerçekleştirdi. UNIMED Genel Sekreteri Hmaid Ben Aziza'nın sunumu ile devam eden toplantıda, 2022 UNIMED Bütçesi ile gelecek dönem faaliyetleri istişare edildi.
Akdeniz çevresinde yer alan 120'den fazla üniversiteyi bünyesinde toplayan UNIMED'in, uluslararası kuruluşlar ile üniversitelerin temsilcileriyle sürekli diyalog hâlinde olduğunu belirten Doç. Dr. Mustafa Aydın da UNIMED'in akademi alanındaki girişimleri, faaliyetleri ve konferansları tesis edebilmek adına önemli bir iletişim fırsatı sunduğunu dile getirdi.
---
THE PRESIDENT OF ISTANBUL AYDIN UNIVERSITY (IAU) ASSOC. PROF. MUSTAFA AYDIN ATTENDED TO UNIMED BOARD MEETING
The president of Istanbul Aydın University (IAU) Assoc. Prof. Mustafa Aydın attended to Mediterranean Universities Union (UNIMED) board meeting.  At the meeting, after evaluating decisions which were taken in the previous meeting the president of UNIMED Francisco Matte Bon made the opening speech. Later, secretary-general of UNIMED Hmaid Ben Aziza made his presentation. They discussed 2022 budget of UNIMED and upcoming activities.
Assoc. Prof. Mustafa Aydın stated that UNIMED which incorporates more than 120 universities always is in touch with international institutions and the representatives of universities and he utters that UNIMED provides an opportunity for communication to carry out activities, conferences and initiatives.